This trip allows you to explore Southern Madagascar, taking in its most diverse environments at a comfortable pace. We will visit some of the best national parks, sites and arboretums, as well as some off the beaten track places, all accompanied by a naturalist guide to ensure you have the best chance of enjoying the unique flora and fauna of Madagascar.
All through the people were so friendly, so welcoming and we certainly fell in love with Madagascar.

– R. Walmsley
Madagascar is a one-off; there is no other place like it. Its landscapes, animals and plants are simply incredible! Near the equator with an astonishing array of habitats, ranging from rainforests to deserts and from mountain tops to mangrove swamps, it is one of the most important countries for biodiversity on the planet. The tropical climate is a perfect host to the process of nature and, like nowhere else, the variety and richness of life has flourished. We will see much of the unique flora and fauna of Southern Madagascar on this great tour.
---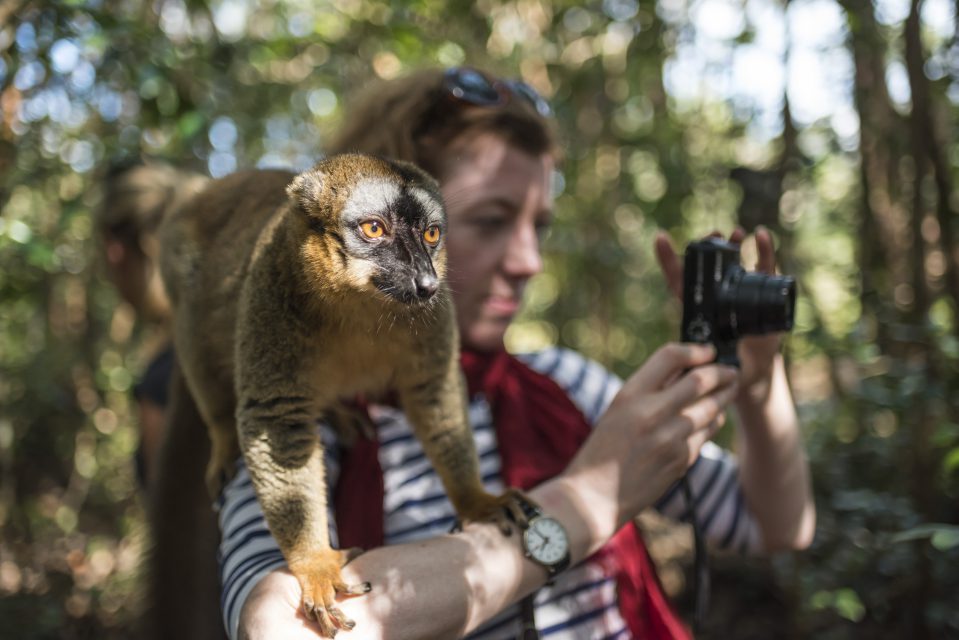 Sophie Gorman travelled to Madagascar on our  'South West Madagascar Nature Holiday – Land of the Lemurs' with Pioneer Expeditions last year. Read about her experience here, in an article she wrote for The Independent (Ireland):
'Made in Madagascar: Natural highs in the land of the lemur' by Sophie Gorman
Madagascar Nature Holiday Itinerary
Day 1: Arrival in Tana
After arriving in Antananarivo (or Tana, as it is known by the locals), you will be met at the airport and transferred to your hotel.
Overnight Hotel
Day 2: Antananarivo – Andasibe National Park (B,L,D)
This morning we will set off to the Perinet Reserve in the (Andasibe National Park) where you will spend 1 ½ days exploring the wonderful environment. En-route we will stop at a farm specialising in Madagascan reptiles and butterflies, before arriving at the Vakona Lodge (or similar hotel). This afternoon you will get a chance to stroll around the private reserve of this hotel with the opportunity to spot lemurs and crocodiles. This evening, take a twilight/nocturnal walk, looking out for the nocturnal species of lemur by catching their eyes in the torchlight.
Overnight hotel
Day 3: Discovering Andasibe National Park (B,L,D)
Today we will explore Andasibe National Park.
The Andasibe / Mantadia National parks are home to the teddy bear-like Indri, the largest of Madagascar's lemur species, as well as other forms of flora and fauna and a wide array of bird life. Listening to the piercing yet melancholy cry of the Indri in the morning is an evocative experience and for those who are prepared to follow them through the thick rainforest, the reward is often a close-up view of these beautiful creatures.
Overnight hotel
Day 4:  Antsirabe (B,L,D)
We will set off early this morning for a full day journey to Antsirabe (via Tana). Antsirabe is a tidy, well maintained town which combines the tranquility of a small European provincial town with the exuberance of traditional Malagasy buildings.
The journey takes approx. 7 hours and we will stop for lunch along the way.   Upon arrival at Antsirabe, if time allows, you could choose to visit the stone cutting workshop where crystals are cut.
Overnight Hotel
Day 5: Antsirabe to Ranomafana National Park (B,L,D)
We will set out after an early breakfast towards Ranomafana National Park (approx. 4 hours driving on good roads).
We will stay just outside Ranomafana (just 10 minutes from the park entrance).
This afternoon you have the option of visiting the thermal baths in Ranomfana or village.
Overnight  Hotel .
Day 6: Discovering Ranomafana National Park (B,L,D)
Today you have the opportunity to explore Ranomfana and search for many of the lemur on a full day trek
Overnights Hotel .
Day 7: Ranomafana – Isalo National Park (B,L,D)
Transfer to the Isalo National Park, this is unlike any other place in Madagascar.
Overnight eco-lodge.
Day 8 Discovering Isalo National Park (B,L,D)
Park visit including the opportunity to swim in a natural pool with lunch on trail. Tonight we will stay at the Isalo ranch again.
Overnight eco-lodge
Day 9: Transfer to Ifaty (B,L,D)
Today we head to Ifaty and the Indian Ocean.   If time allows we will stop by Zombiste NP en-route
Overnight Hotel
Day 10: Discovering Ifaty  (B,D)
Just north of Ifaty you can find the Reniala Nature Reserve 'Spiny Forest' , a remarkable habitat adapted to the heat and drought of the area giving it the resultant thorny &/or bloated drought resistant trees and plants. The spiny forests inland from Ifaty are of great interest to birdwatchers and botanical enthusiasts alike. Here you will be able to see some very large iconic Baobab trees, an abundance of birds (a true paradise for ornithologists) as well as possibly some locally endemic species such as the long-tailed ground roller and sub-desert mesite. This unique habitat is severely threatened by deforestation and by visiting these sites, you will not only enjoy some of the little remaining spiny forest in Madagascar, but also actively contribute to its conservation (the sites are currently not protected). A visit here can be organized by the hotel, and you can even travel there by pirogue – which we highly recommend.
Day 11: Ifaty to Antananarivo  (B)
We will catch the Air Madagascar flight from Tulear to Tana.  Depending on your time of arrival in Tana you can visit the handicraft market
Day 12: End of Trip (B)

Transfer to airport in time for flight home. If you are on the Air France or Air Kenya trip which leaves early morning of day 13) you can opt to have a day use room &/or driver /guide for the day (not included).
NB: This itinerary is subject to change – arrangements, routes and facilities are subject to variation depending on local conditions.  Please note times given are approximate driving times and do not include stops, the journey times are therefore longer. When driving times are given, this is only an indication.  It aims to reflect the actual driving time (and doesn't include stops, lunch, traffic). The road journeys, while often long, are one of the great ways to experience Madagascar.  There is so much life on the road and many photographic opportunities along the way from a natural and people perspective.  
We can also tailor itineraries to suit your exact requirements.
OPTIONAL BEACH EXTENSION

BEACH EXTENSION OPTION 1: IFATY
BEACH EXTENSION OPTION 2: ANAKAO
Optional MORONDAVA EXTENSION
If you have time, why not add an extension to Morondava onto your Madagascar trip.  This will allow you to experience the Tsingy des Bemaraha as well as the Avenue des Baobabs (approx. 7 days needed – email us for details).
Save Save Save Save Save Save
Save
Save
Save
Save
Save
Save
Save
Save
Save
Save
Save
Save
Save
Save