It's known as the Land of the Lemurs! Explore the wonders of Southern Madagascar on this nature guided trip of a lifetime, whilst taking in the most diverse environments at a comfortable pace. We will visit some of the best national parks, sites and arboretums & of course some off the beaten track places along the way. You'll be accompanied by a naturalist guide to ensure you have the best chance of witnessing as well as learning about all of the wonderfully unique flora and fauna of Madagascar. The south west is filled with adventure, iconic Madagascan animals, fabulous wildlife watching opportunities, outstanding landscapes, an abundance of culture and gorgeous hidden beaches lining the Indian Ocean; all waiting to be explored, encountered and cherished.
All through the people were so friendly, so welcoming and we certainly fell in love with Madagascar.

– R. Walmsley
Madagascar is a one-off; there is no other place like it. Its landscapes, animals and plants are simply incredible! Near the equator with an astonishing array of habitats, ranging from rainforests to deserts and from mountain tops to mangrove swamps, it is one of the most important countries for biodiversity on the planet. The tropical climate is a perfect host to the process of nature and, like nowhere else, the variety and richness of life has flourished. We will see much of the unique flora and fauna of Southern Madagascar on this exceptional nature guided tour.
---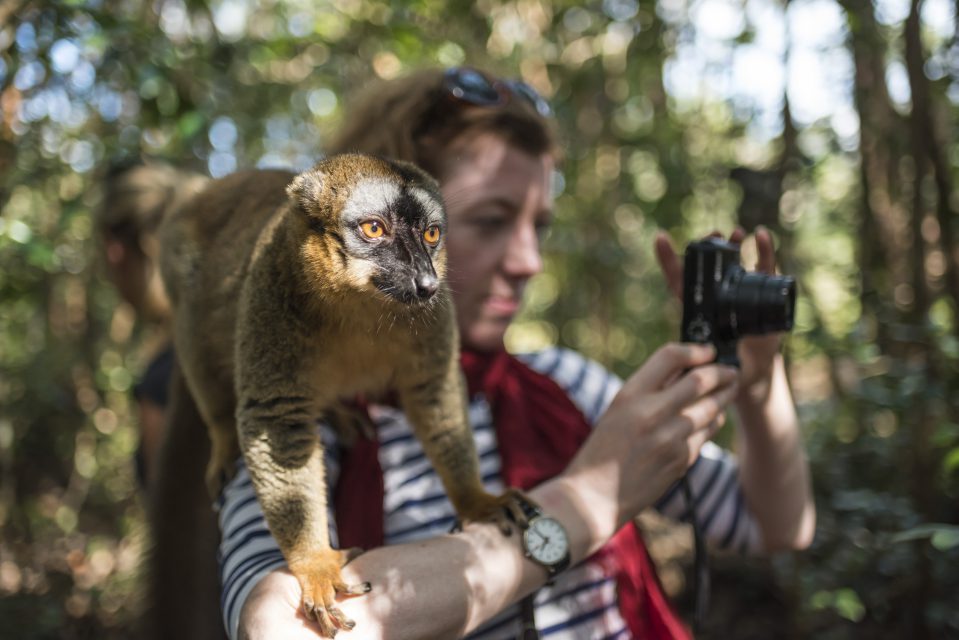 Sophie Gorman travelled to Madagascar on our  'South West Madagascar Nature Holiday – Land of the Lemurs' with Pioneer Expeditions last year. Read about her experience here, in an article she wrote for The Independent (Ireland):
'Made in Madagascar: Natural highs in the land of the lemur' by Sophie Gorman
Madagascar Nature Holiday Itinerary
Day 1: Arrival in Tana
After arriving in Antananarivo (or Tana, as it is known by the locals), you will be met at the airport and transferred to your hotel.
Antananarivo is the capital and largest city in Madagascar. It is buzzing with activity and full of people flooding the streets, selling everything you could imagine! Tana (as the locals call it) resembles a Mediterranean hill town and exploring its rich cultural and architectural sites on foot is relatively easy (as long as you are willing to climb hundreds of ancient stone steps).
Overnight – Hotel
Day 2: Antananarivo – Andasibe National Park (B,L,D)
This morning we will set off to the Andasibe-Mantadia National Park (previously known as Perinet)  where you will spend 1 ½ days exploring this wonderful environment. En-route we will stop at a farm specialising in Madagascan reptiles and butterflies, before arriving at our hotel. This afternoon you will get a chance to stroll around the private reserve of Vakona Lodge with the opportunity to spot  lemurs and crocodiles. This evening, take a twilight/nocturnal walk, looking out for the nocturnal species of lemur by catching their eyes in the torchlight.
Overnight – Hotel
Day 3: Discovering Andasibe National Park (B,L,D)
Today we will explore Andasibe National Park.
Andasibe-Mantadia National Park (formerly known as Perinet) is a 155 square kilometer protected area, about 150 km east of Antananarivo (approx. a three hour drive) consisting principally of primary growth forest.  These are home to the teddy bear-like Indri, the largest of Madagascar's lemur species, as well 11 lemur species in total and a wide array of bird life too. Listening to the piercing yet melancholy cry of the Indri in the morning is an evocative experience and for those who are prepared to follow them through the thick rainforest, the reward is often a close-up view of these beautiful creatures. This National Park was inscribed in the World Heritage Site in 2007 as part of the Rainforests of the Atsinanana.
Overnight – Hotel
Day 4:  Antsirabe (B,L,D)
We will set off early this morning for a full day journey to Antsirabe (via Tana). The driving time is approximately 7 hours, however we will stop for lunch along the way. Upon arrival at Antsirabe, if time allows, you could choose to visit the stone cutting workshop where crystals are cut.
Antsirabe is a tidy, well maintained town which combines the tranquility of a small European provincial town with the exuberance of traditional Malagasy buildings.  The third largest city in Madagascar, Antsirabe is known for its relatively cool climate (as the rest of the central region of the country), its industry and the high concentration of pulled rickshaws.
Overnight – Hotel
Day 5: Antsirabe to Ranomafana National Park (B,L,D)
We will set out after an early breakfast towards Ranomafana National Park (approx. 4 hours driving on good roads).
We will stay just outside Ranomafana (just 10 minutes from the park entrance).
This afternoon you have the option of visiting the thermal baths in Ranomfana or looking around the village.
Overnight – Hotel

Day 6: Discovering Ranomafana National Park (B,L,D)
Today you have the opportunity to explore Ranomfana and search for many of the lemur on a full day trek
Ranomafana is particularly rich and beautiful, a mountainous subtropical park which contains lowland moist forest, cloud forest and high plateau forest and is the home to a large number of lemur species (13 in total), as well as 118 birds and more than 70 amphibians and reptiles so is really a great place to see some of the unique species living in Madagascar. Lemurs include the brown lemur, golden bamboo lemur and the exceptionally rare greater bamboo lemur which is relatively easy to see in Ranomafana. Wildlife viewing is good all year round but is most productive from mid-Sept to May.
Overnight – Hotel

Day 7: Ranomafana – Isalo National Park (B,L,D)
Transfer to the Isalo National Park. This extraordinarily unique area of natural beauty is unlike any other place in Madagascar
Overnight – Eco-lodge.
Day 8 Discovering Isalo National Park (B,L,D)
Today we will visit this breathtaking National Park. Included will be the opportunity to swim in a natural pool with lunch on trail.
Isalo is the park of the Big South and the most visited parks of Madagascar. It is known for its exceptional landscape. The Isalo National Park protects over 81,000 hectares of widely eroded Jurassic sandstone massif. The grassy plains are surrounded by sandstone ridges. Most of the vegetated areas of the park are covered with dry grassland or sparse, low deciduous woodland, however near streams and in deeper canyons there are also ferns and feathery palm trees.  Animal life isn't the parks most prominent feature, but there a few species to look for including six species of lemur (three nocturnal, three daytime) including the ring tail lemur and the White (dancing lemur) sifaka. It is also home to approx 55 species of bird including the rare Benson's rock-thrush.
Overnight – Eco-lodge
Day 9: Transfer to Ifaty (B,L,D)
Today we head to Ifaty and the Indian Ocean. If time allows, we will stop by Zombiste National Park en-route.
Facing the Mozambique Channel and the superb coral reef of Ifaty, less than 20 kms from Tuléar, you will discover the beauty of beaches not tainted by mass tourism. Ifaty is a small fishing village with palm-fringed white beaches on the south-western coast of Madagascar, and is an ideal place to relax after visiting the central highlands.   The beach is relatively narrow, but the (off shore) snorkeling and diving is good. In July and August, you may see migrating whales pass nearby through the Mozambique Channel. Between May and October, the humpback whales can sometimes be seen with their whale-calves.
Overnight – Hotel
Day 10: Discovering Ifaty  (B,D)
Just north of Ifaty you can find the Reniala Nature Reserve 'Spiny Forest' , a remarkable habitat adapted to the heat and drought of the area giving it the resultant thorny &/or bloated drought resistant trees and plants. The spiny forests inland from Ifaty are of great interest to birdwatchers and botanical enthusiasts alike. Here you will be able to see some very large iconic Baobab trees, an abundance of birds (a true paradise for ornithologists) as well as possibly some locally endemic species such as the long-tailed ground roller and sub-desert mesite. This unique habitat is severely threatened by deforestation and by visiting these sites, you will not only enjoy some of the little remaining spiny forest in Madagascar, but also actively contribute to its conservation (the sites are currently not protected). A visit here can be organized by the hotel, and you can even travel there by pirogue – which we highly recommend.
Day 11: Ifaty to Antananarivo  (B)
We will catch the Air Madagascar flight from Tulear to Tana.  Depending on your time of arrival in Tana you can visit the handicraft market.
Day 12: End of Trip (B)

Transfer to airport in time for flight home. If you are on the Air France or Air Kenya trip which leaves early morning of day 13, you can opt to have a day use room &/or driver/guide for the day (not included).
NB: This itinerary is subject to change – arrangements, routes and facilities are subject to variation depending on local conditions.  Please note times given are approximate driving times and do not include stops, the journey times are therefore longer. When driving times are given, this is only an indication.  It aims to reflect the actual driving time (and doesn't include stops, lunch, traffic). The road journeys, while often long, are one of the great ways to experience Madagascar.  There is so much life on the road and many photographic opportunities along the way from a natural and people perspective.  
We can also tailor itineraries to suit your exact requirements.
OPTIONAL BEACH EXTENSION

BEACH EXTENSION OPTION 1: IFATY
BEACH EXTENSION OPTION 2: ANAKAO
OPTIONAL MORONDAVA EXTENSION
If you have time, why not add an extension to Morondava onto your Madagascar trip.  This will allow you to experience the Tsingy des Bemaraha as well as the Avenue des Baobabs (approx. 7 days needed – email us for details).
Save Save Save Save Save Save
Save
Save
Save
Save
Save
Save
Save
Save
Save
Save
Save
Save
Save
Save
Save
Save
Save
Save
Save
Save
Save
Save
Save
Save
Average rating:
11 reviews
Aug 11, 2017
Nature guided south west
Well organised full content
Dec 19, 2016
Private Tailormade Trip
Easy to organise. Fulfilled our needs. Great experience.
Nov 10, 2016
Excellent
The sights and wildlife of Madagascar were magnificent and well worth the discomfort of the long travel times.We would have no hesitation in recommending Pioneer to people who wanted an "adventurous" holiday in Madagascar. Your organisation and customer handling were excellent
Nov 8, 2016
Madagascar - South West Tailormade Southern Explorer
What a trip!A fantastic experience with lots of different things to see. Contrast between the have and have-nots was very marked. Better roads would have made the trip easier.Frederic and Zu took great care of us and were great fun to be with.
Oct 18, 2016
Excellent
Excellent booking and excellent trip. Good value for the trip with the possibility of seeing Lemurs. Everything I had expected & hoped for!
May 20, 2016
Land of the lemurs - and so much more
There is so much more to Madagascar than its lemurs, there is rainforests, secret waterfalls, deserts, 600 year old baobab trees, tiger chameleons, glorious welcoming people... But there are also the most wonderful lemurs. On our first morning, we spent five hours trekking through the rainforest in Andasibe and, thanks to our intrepid local guide Jacques, we met lots of these great creatures, free in the wild. We heard them first, that unforgettable plaintive holler of the black and white indri lemurs. Led by this most distinctive cry, we discovered a large extended family of them. And then we found the beautiful golden diadamed sifaka lemurs. We soon learned that lemurs keep moving unless they are eating and, if they are sitting still in trees for more than a second, chances are they are about to pee or worse. It can be dangerous if you walk underneath. In one day, we saw indri, sifaki, bamboo lemurs, brown lemurs and, at night, mouse lemurs and dwarf lemurs.
This is a large land, unexpectedly so, and unexpectedly diverse. In a day, you go from humid tropical rainforest to dry arid plains of Isalo. Driving is long and often bumpy, but the scenery spectacular and the pit stops in local communities often fascinating. A village that survives only on its blacksmith work. The most ingenious rice paddy system at work. Beautiful panoramas that demand you stop to breathe them in. A weekly market that is half a clothes market and half a pig market and gets particularly colourful when the latter half invade the former. Ifaty by the sea is another surprise, idyllic paradise with snorkelling around the coral reef. And this is quite a physical tour, you will be hiking through steep terrain and it is at times quite intrepid, though nothing knocks exhaustion on the head quite like sitting quietly by yourself with a family of red-fronted lemurs or diving into a refreshing waterfall.
Highlights are many but a special one was driving towards Ranomafano along a dirt track, our wonderful driver Zu realising we were happy to bump along off the main road to get these marvellous views. We were passing the perimeter of the national park when my gaze was caught by a furry shape in one of the trees. I may have slightly screamed. The car squealed to a halt. Everyone thought I was seeing things. I thought I was seeing things. But what I was actually seeing was a family of reasonably rare Milne Edwards sifaka lemurs.
This tour is a wonderful voyage of discovery. Unforgettable.
Apr 1, 2016
Madagascar Nature Guided SW
Just wanted to drop you a note thanking you and your team for organizing our recent trip to Madagascar. Heri and "Zoo" were brilliant hosts and we struck up a great relationship with them. You were very accommodating with the change in the itinerary which worked out very well for us.
We were both delighted with the entire adventure and the little extra stops that Heri organized (aluminium casting, silk production, zebu horn processing, toy-making, reptile reserve, 2 x lemur reserves) just added to the experience of the country and the wildlife.
I have only one suggestion. Some people might be put off by the amount of time spent in the car (I hasten to mention this was not a problem for us) so it might be worth setting expectations a little better. The shortest trip was the one to Ifaty all the others were pretty much all day events.
Dec 8, 2015
Madagascar Nature Guided SW
You will be pleased to know that we have returned safely from our trip. Everything went to schedule and we had a great time. Our guide Hery and the driver were very good throughout, and we saw lots of lemurs and other wildlife.
Anna would have liked to little more variety with vegetarian choices, usually crudités and omelette, pasta only once. This was only the case for evening meals. Lunchtime was a la carte so nice food and good choices'.
Once again thanks very much and best wishes,
Oct 26, 2015
What can we say? The itinerary, guides and drivers were all spot on. We enjoyed all the parks on the way down to Tulear and managed to see most types of Lemur and Sifakas including several that only come out at night. Snakes, Chameleons, stick insects, birds....wildlife at evyer turn. The highlights of the trip? Too many to mention really. We loved Ranomafana - helped by it being Heri's home town - and saw a huge amount of wildlife. Swimming in the pool in Isalo and the walk up the "hidden canyon" to the waterfalls at the top. The faded spleandour of Antisirabe. We also loved Gilles' place - helped by him hosting us and giving us a personal guided tour of the trees (we didn't mind at all that the second room wasn't completed, but the views from the balcony are immense!). So sad about the fire the week after we left. Le Paradisier was exquisite - slightly odd being the only guests - and the trip out with the local fisherman ended with the most amazing grilled lobster on the beach up at their village (well negotiated by Tom). We tried Whale watching but only saw dolphins - probably the only time we failed in our quest to see the wildlife we were after.

Heri and Tsiry were great. Heri was never short of information or general chatter and he & Melanie got on like a house on fire - between them they managed to continue a conversation the whole time we were travelling. Indeed we didn't realise that Tsiry spoke much English until he picked us up in Tana for our last day! I cannot recommend them highly enough. Faultless. Every evening when we arrived at a new place, they would head off into town and arrange our guide for the next day - we always had the best guides & spotters available thanks to Heri's pre-planning.

But the trip to the Tsingy was the tops. We had a night in Tulear courtesy of Air Mad and them met Fred and our new driver (his name escapes me and the boys aren't around to remind me) at Morondava. What a trip up to Bekopaka! The driver was again perfect - and the ferries were amazing. We were lost for words in the Tsingy. Fred managed to negotiate his way around a Park guides strike in the Petit Tsingy and then the Grand Tsingy was jaw-dropping. The Soleil des Tsingy was luxury - we met a Dutch family who had driven there from Tana and whose children were refusing to get back in the car! Fred was great on our final day back in Morandava and then it was so nice to see Tsiry again when we got back to Tana - and we also got to meet Manantena.

And all through the people were so friendly, so welcoming and we certainly fell in love with Madagascar. While we were certainly isolated from the problems of the country, we got a good feel for the people, landscape and wildlife and felt so sad that there were so few tourists and so much corruption in the country....but we've certainly been signing its praises ever since we got home. We felt perfectly safe the whole time except in the Lower Town in Tana...but we were ready for that!

In summary - all the hotels and guest houses were superb....from Hotel Aty & Cristo right up to Le Paradisier & Soleil des Tsingy (with the small exception of Espace Zongo which didn't have the character or welcome of the others). And the guides & drivers - immense!
Oct 26, 2015
Madagascar NGSW + Morondava extension
Overall it was wonderful, and maybe people will think I am crazy, but I enjoyed tremendously the drive on the extension part of the trip. It was hard on all of us, including the driver, but it was a beautiful journey through a country of great beauty plus I saw and learned things that otherwise I wouldn't have. The expertise of Joachim the driver is incredible. I was teasing him telling him I was going to hire him to drive me though the desert at the Baja peninsula in Mexico, for the Baja 1000 off road race.

The food and the service were excellent except in the Kirindi Lodge restaurant, where it took them almost two hours to serve us, until I threatened them with leaving. The hotels were good, although I have my favorites, like Isalo Ranch with excellent food and service, and Laguna Blue, where the Italian ladies who are the owners, made us feel at home from the first moment, and feed us the Italian way (lots of great food) I would have loved to spend another night there, also Chez Maggie is very nice, and the staff is very caring and accommodating.

The only really bad hotel is the one in Manja Hery was saying that if he avoids it if he can, and instead he takes his clients camping at the grounds of the Catholic Church, and they cook there etc.
Although I am not a camper fan per se, I would rather had chosen to spend that night camping than in that shabby hotel.

Thanks for everything!

Rosa