On this trip we will explore an interesting combination of rivers, forests & mountains through very different landscapes, cultures, climates and biotopes.
The itinerary provides a fantastic opportunity to enjoy the natural highlights of the "red island" on foot, by canoe, train and by car – accompanied by your own naturalist guide throughout the trip, as well as local guides in the National Parks.
This holiday was absolutely incredible, but sadly feels like a million years ago already!

– C. Roberts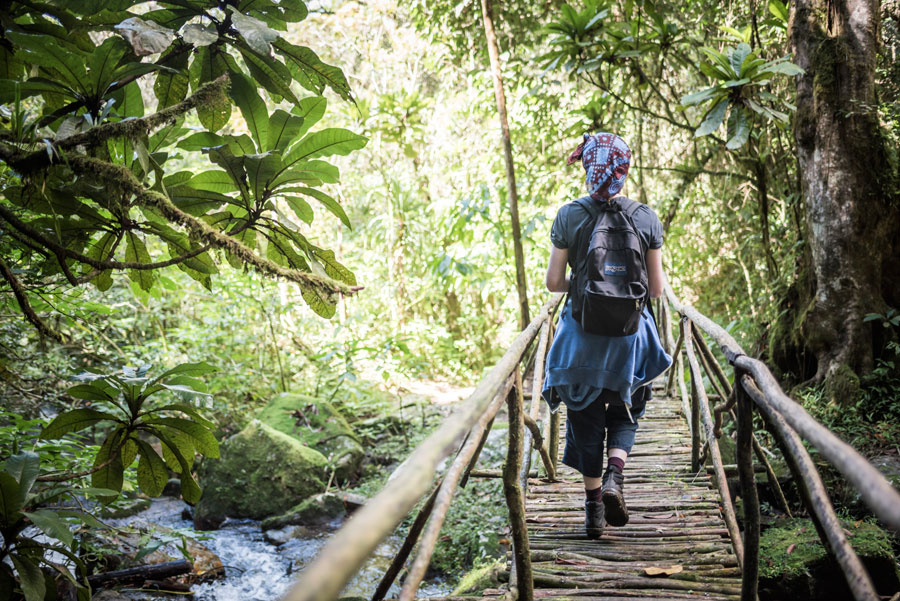 Madagascar is a one-off; there is no other place like it. Its landscapes, animals and plants are simply fantastic! Near the equator with an astonishing array of habitats, ranging from rainforests to deserts and from mountain tops to mangrove swamps, it is one of the most important countries for biodiversity on the planet. The tropical climate is a perfect host to the process of nature and, like nowhere else, the variety and richness of life has flourished. We will see much of the unique flora and fauna of Eastern Madagascar on this great tour. As part of our commitment to responsible travel and in conjunction with Woodstock.org we finance a tree nursery and orchard in Italavina – which is a long term reforestation project.
NATURE GUIDED SOUTH EAST MADAGASCAR ITINERARY
Day 1: Antananarivo
After arriving in Antananarivo (or Tana, as it is known by the locals) late pm, you will be met at the airport and transferred to your hotel.
Overnight Hotel
Day 2: Visiting Ambatolampy and Antsirabe (B,L,D)
After breakfast you will meet your guide and we will set out by car to Antsirabe, a tidy, well maintained town which combines the tranquility of a small European provincial town with the exuberance of traditional Malagasy buildings. The journey takes approx. 3+ hours on a good, windy road, and along the way you can choose to stop off and visit Ambatolampy (the biggest town between Tana and Antisirabe) where we may get the chance to see craftsmen building aluminium pots amongst other things. Alternatively, if time allows, you can also visit lake Tritriva (2hr round trip) – a stunning lake of volcanic origin with blue/green waters, surrounded by beautiful scenery – we can walk around the lake in approx. 1 hour and during this time we will likely meet many local Malagasy people. Where we will stop and what you will do today will depend on your preferences. Upon arrival at Antisirabe you could visit the stone cutting workshop where they cut crystals.
Overnight Hotel
Day 3: Ambositra (B,L,D)
This morning we will drive to Ambositra. Ambositra is a city in central Madagascar. High on a plateau surrounded by misty green peaks, it is also the arts-and-crafts capital of Madagascar and there are over 25 artisans' shops, selling woodcarvings, raffia baskets, polished stones, marquetry (objects inlaid with colored woods) and paintings. Ambositra is a picturesque and lively town, full of tall red-brick Betsileo houses lining its crooked streets.
Overnight Hotel.
Day 4: Sahambavy (B,L,D)
Today we will be setting off to Sahambavy.
This afternoon we can visit the plantations and tonight we will stay at the Lac Hôtel with a breathtaking view of the islands unique tea plantation (520 hectares) which spreads out as far as the eye can see. The beautiful landscape with the charming lake is the perfect destination for a relaxing stop-off.
Overnight Hotel
Day 5: Train to Manakara, Canoe the Faraony River (B,L,D)
Today we head out on the next part of our adventure from Fianarantsoa to Manakara (by train and canoe!). The trip will take us trough dense forests and along a calm river (the few rapids we will encounter of the next few days are gentle and can be avoided if you don't want the potential of a swim….. that said the first rapid tends to be the one to catch most of us out)
We start by a half day train journey through scenic and interesting landscapes. The train ride takes approximately 5-6 hours. We will be travelling on reserved 1st class seats (the train can get pretty full!) and will disembark in Manampatrana, where the Faraony river winds gently between boulders, cliffs and cultivated banks.
We will meet our canoe team and set off on a short canoe downstream (grade 1 and 2 rapids)   before stopping on one of the beaches to setup camp (afternoon showers are not unusual in this area).  Your guides and canoe team are in charge of all the logistics (food, firewood etc.) and you only have to put up your own tent. All meals, mainly from fresh and local products are generously served and prepared with care.
Overnight camp
Day 6-7: Canoeing the Faraony River (B,L,D)
Days spent canoeing.
Along the way we will meet many smiling Malagasy people.
Overnights camp.
Day 8: Ranomafana  (B,L,D)
This morning we will lay up our canoes and say goodbye to the Faraony – from here onwards the river starts to flow furiously through rapids and cataracts so we abandon it in its ocean race.   From here we have a 4 – 5 hour trek (12 miles walking), where we will rendezvous with our driver and vehicle before heading to Ranomafana (driving time – approx 4 hours).  We will get to Ranomafana in time for dinner
Overnight hotel.
Day 9: Ranomafana National Park (B,L,D)
We will head out on a forest trail today and have lunch in the park, so we should get a chance to see much of the wildlife first hand throughout the day.
Overnight Hotel
Day 10: Visiting Ambalavao (B,L,D)
This morning we can spend a couple of hours rafting on the Namorana river inside the National Park before setting off to Ambalavao (Driving Time – 3h). We will get a chance to visit the attractive town of Ambalavao, a small town typical of the Central Highlands renowned for its wooden balconies with elaborate carvings, papermaking and a lively cattle market – before heading to our hotel and some time to relax.
Overnight Hotel
Day 11: Discovering Anja and Tsaranoro Valley (B,L,D)
This morning we visit Anja park (just a few kms from Ambalavao). Anja is actually one of the more touristy places we visit, however the site is community run, remains beautiful and it offers a unique occasion to interact with 'wild' animals (ring-tailed lemurs) somewhere between tamed and familiar!
After visiting the reserve we will drive to our next destination – the Tsaranoro Valley (1 ½ hrs away).
Our accommodation here will be a traditional bungalow at Camp Catta situated at the foot of Tsaranoro's cliff       This afternoon we will be able to go on a short trek to explore the area or simply relax.
Overnight Bungalows
Day 12: Discovering the Tsaranoro Valley (B,L,D)
We will spend today exploring this stunning area on foot and meeting all the locals – a fantastic opportunity to see Madagascar in all its natural glory. Prepare to be enchanted by the astounding landscapes, stunning red land and the beautiful and awe-inspiring Massif of Andringitra. You will be able to see many kinds of orchids, three sorts of palms including one kind which is endemic to the Andringitra, chameleons, lizards, snakes, batrachians, birds including the famous peregrine falcon as well as the especially friendly Catta Lemurs living in small families around the Camp.       We will also have the chance to visit Tsarasoa, which is the base for our local agents reforestation effort (a passion which is shared (via wood-en-stock) by Pioneer Expeditions) . Here we will have the opportunity to visit and see the reforestation effort for ourselves.  Depending on the time of year we may also get to plant some young saplings. Overnight bungalow – Camp Catta
Day 13: Tsaranoro Valley – Ambositra (B,L,D)
Today we must start our long journey back to Tana, so we will head to Ambositra (Driving time – 8h).
Overnight hotel
Day 14: Back to Tana & flight home (B)
We will head back to Tana today (Driving time – 5h), so suits an afternoon flight.
Alternatively we can arrange for additional accommodation for tonight in Tana
Overnight hotel
NB: This itinerary is subject to change – arrangements, routes and facilities are subject to variation depending on local conditions.   We can also tailor itineraries to suit your exact requirements. When driving times are given, this is only an indication.  It aims to reflect the actual driving time (and doesn't include stops, lunch, traffic). The road journeys, while often long, are one of the great ways to experience Madagascar.  There is so much life on the road and many photographic opportunities along the way from a natural and people perspective.  
Optional Extension
Why not extend this trip with a visit to one of Madagascar's other amazing National Parks – Isalo, as well as some relaxation on the coastal resort of Ifaty.
DAY 13 : ANDRINGITRA – ISALO (B,L,D)
Morning at leisure before transferring to the Isalo National Park, this is unlike any other place in Madagascar.
Overnight eco-lodge.
DAY 14 : DISCOVERING ISALO NATIONAL PARK (B,L,D)
Park visit including the opportunity to swim in a natural pool with lunch on trail. Tonight we will stay at the Isalo ranch again.
Overnight eco-lodge.
DAY 15 : Transfer to ifaty  (B,L,D)
Today we head to Ifaty and the Indian Ocean. This afternoon we can relax at a lovely hotel with bungalows along the beach.
Overnight Hotel.
DAYS 16-17: DISCOVERING IFATY (B,D)
Overnight Hotel
DAY 18 : TRANSFER TO TANA (B,D)
We will catch the Air Madagascar flight from Tulear to Tana.
Upon arrival to Tana you can visit the visit the handicraft market before transferring to your hotel for the night
Overnight Hotel
DAY 19 :  Flight home (B)
Transfer to the airport in time for your flight home.  If your flight home is late in the day (or early the following morning) we are happy to organise a day use room for you &/or a driver guide.  Please contact us for options.
Save Save Save Save Save Save Save Save Save Save
Save
Average rating:
8 reviews
Nov 25, 2016
I wanted a small group, more of an adventure tour to Madagascar, and I believe this is exactly what I got!Everything was so well taken care of, and everyone was so helpful!This was one of the most incredible and exciting holidays that I have ever been one. It will be remembered for many years!
Nov 23, 2016
Excellent but be prepared for hotter temperatures than expected, especially for the 17 km walk
Nov 18, 2016
Excellent
The best trip I've ever had!
Nov 18, 2016
A great trip
Madagascar exceeds your expectations in every way; when you finally think you have learnt what might be round the next corner, it happens all over again.Our Guide Toky provided a first class, professional and extremely enjoyable service
Oct 6, 2016
Great trip , very privileged to visit such an amazing place.
Aug 2, 2016
Once I arrived in Madagascar, everything went very smoothly. The activities showed various faces of the country, so different and amazing. The most memorable part of the holiday was the beauty of the countryside, the peace and tranquility on the hikes.
Advice to other travellers booking on this holiday - Not sure if I would want to go through Istanbul again - I got caught up in the attempted coup!
May 23, 2016
Nature Guided South East Trip
We had a great trip, everything was well organised, with all helpful staff along the way. We were very happy there was no rafting after the canoeing, which we enjoyed immensely. We did give up on trying to have a pee in privacy and loved the fact that the villagers came out to view the "cabaret" in the canoes. The trek along the railway line was hard – 12 miles, I think a few less fit people might have struggled there.
Hery was extremely knowledgeable and Zu was a great driver, we wouldn't have seen half the animals if Hery hadn't pointed them out, especially the chameleons. We also liked the fact that mostly they went at our pace without making us feel uncomfortable.The diving wasn't so good there but wasn't a problem as we managed to go to the spiny forest, the tortoise home and the mangroves instead.
Only one negative, we were advised to take Euros but we could very easily change sterling at Tana airport which would have been better.
Oct 27, 2015
This holiday was absolutely incredible, but sadly feels like a million years ago already!

In terms of feedback:

• Our guide Hery could not possibly have been better – we absolutely adored him and I would recommend him 100% for anyone visiting Madagascar. His level of English (and French!) was brilliant, and his enthusiasm and cheerfulness made the trip. Our driver Haja was also great, and a special recommendation should also be given to Livé and (the other!) Haja who were our canoe team. We felt completely spoilt by all of them.

• The tour and the country itself was perfect for us – our favourite parts were the canoeing and the various hikes, since we love the active stuff, but the scenery, the wildlife and the people were so special. We would probably do a tour next time which contained even more active parts. We saw one group at Tsarasoa who were doing the same type of route by bike, which would be incredible.

• Accommodation:

o Trano Bongo hotel, first night – this was a gorgeous place to start the trip, although we were only there for a few hours! Loved it.
o Artisan hotel, Ambositra – loved our little carved wood bungalow, and great food. Shower didn't work, but didn't bother us since it was only a short stop.
o Lac Hotel – amazing place! Great bar and restaurant, gorgeous huge room. The train journey afterwards was fantastic – but I'm glad we only did the "short" section! Complete bedlam and chaos, but very moving.
o Camping nights – Livé was my hero amongst men. Our favourite part of the trip and better than any 5* hotel experience. Wish we had done more! Not for "high-maintenance" people though – even the bush facilities on the second night were a bit sparse, but didn't bother us in the slightest.
o Parthanay Club, Manakara – really liked this place, and obviously had the best shower in the world after 3 days on canoes! Fantastic meal, shame about the disused pool which makes it look a bit run down and grubby, because the rest of the place is stunning.
o Domaine Nature, Ranomafana – our least favourite. The room was pretty basic, but the whole place just seemed a bit sad and lonely, and in need of a bit of TLC. Food wasn't great, and Adam got horribly sick after the first night – normally he has a stomach of steel. Myself and Karin were fine though, so who knows if it was the food.
o Zongo hotel, Ambalavao – one of our favourites. Lovely bungalow, fantastic food, and a semi-wild resident lemur trotting around the place. The Anja wildlife park near here was our favourite – a beautiful peaceful place, with lemurs and their babies everywhere!
o Tsarasoa – unbelievably beautiful place. They seemed a bit surprised by our arrival and were still building our bungalow and outdoor bathroom during our first day! It was amazing once completed though – again very rustic and basic, but completely wild and relaxing. The hiking was incredible and was another highlight of the trip.
o Lemur Forest Camp, Ialatsara – I still don't really know what to make of this place! Adam loved it, but I was a bit put off by the owner from the start. He seemed a bit annoyed that we were there, and we're still not 100% sure if he was completely drunk the whole time! The lemurs were amazing and we had a lovely dinner, but the room was VERY basic – I think the term "bathroom" might be a bit of a stretch (i.e. hole in floor for toilet and two barrels of brown water and a shower basin!), but the bungalow and bed itself was very nice – completely open to the outside world, so freezing at night!
o Chambres du Voyageur, Antsirabe – by far one of the best hotels. Lovely room, fabulous staff and amazing dinner.
o Hotel Sakamanga – we loved the room and it was a very relaxing final stop. A bit chaotic checking in and checking out, since they didn't really seem sure what was already paid for, but it was resolved eventually.

It really was a wonderful trip, superbly organised and completely seamless. We would not hesitate to recommend you to anyone, and indeed have done so to many friends who have seen our pictures and now want to go themselves!

In case of interest, there is an album of our photo highlights which you can access here: https://www.facebook.com/media/set/?set=a.10153594418809303&type=1&l=d37485a807

Thank you for everything, and we will certainly be in touch when we are planning our next adventure.