From the towering cliffs of Andringitra and Tsaranoro to the deepest canyons of Isalo, this is a fantastic combination of the best mountainous areas of Madagascar. On foot and by canoe you'll have a chance to encounter the locals who live in these isolated areas. At the end of the trip you'll get a chance to relax on some of the finest beaches on the South West coast. Madagascar is a one-off; there is no other place like it.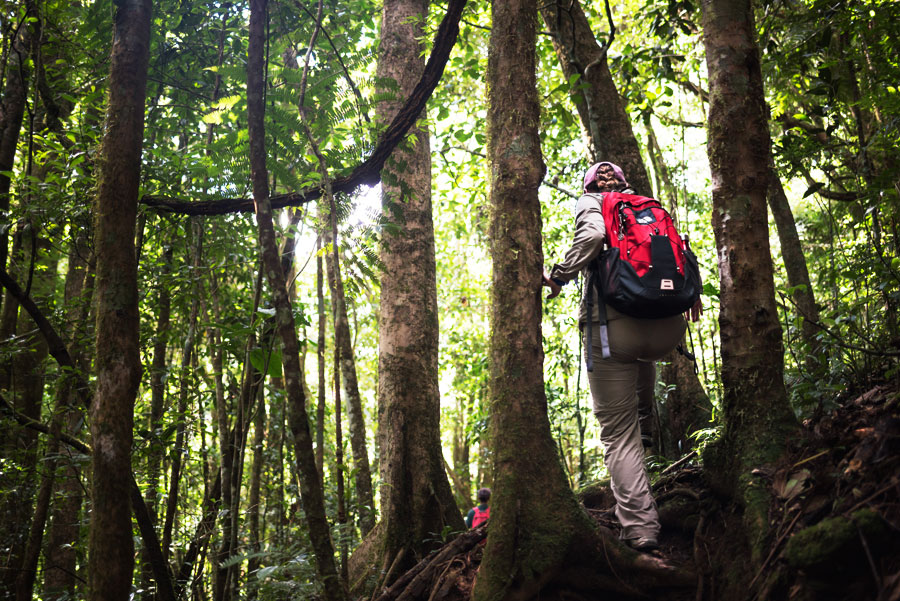 Its landscapes, animals and plants are simply fantastic! Near the equator with an astonishing array of habitats, ranging from rainforests to deserts and from mountain tops to mangrove swamps, it is one of the most important countries for biodiversity on the planet. The tropical climate is a perfect host to the process of nature and, like nowhere else, the variety and richness of life has flourished. As part of our commitment to responsible travel and in conjunction with Woodenstock.org we finance a tree nursery and orchard in Italavina – which is a long term reforestation project.
Overall, the holiday was wonderful and exceeded our expectations.

– H. Bruno
Madagascar Trekking and Canoeing Itinerary
Day 1: Arrival in Tana
After arriving in Antananarivo (or Tana, as it is known by the locals) late pm, you will be met at the airport and transferred to your hotel
Day 2: Ambositra (B,L,D)
This morning you will meet your guide and will set out by road to Ambositra where we can get the chance to visit the famous woodcarving workshops. – Ambositra is a city in central Madagascar. High on a plateau surrounded by misty green peaks, It is also the arts-and-crafts capital of Madagascar and there are over 25 artisans' shops, selling woodcarvings, raffia baskets, polished stones, marquetry (objects inlaid with colored woods) and paintings. Ambositra is a picturesque and lively town, full of tall red-brick Betsileo houses lining its crooked streets.
We will spend the night in Amobsitra.
Day 3: Ambalavao (B,L,D)
After breakfast this morning, we will head to Ambalavao. – Situated in tropical surroundings in the most southern part of the central highlands, near Fianarantsoa, Ambalavao is noted for its houses with wooden balconies with elaborate carvings and tiled roofs.  It is also known for its lively cattle market on Monday and Thursdays on the outskirts of town where you will be able to see a large number of Zebu and herdsmen on the roads. Seen as one of the most beautiful towns in the high plateaus boasting brightly painted buildings on the main street that look a bit like gingerbread houses.
Day 4: Zomandao (B,L,D)
This morning we have a short drive to Zomandao (approx. 2hrs) to the start of our trail where will begin our trek in these rocklands. We will meet up with our logistics team and move towards the impressive walls of black granites.
Prepare to be enchanted by the astounding landscapes, stunning red land and the beautiful and awe-inspiring Massif of Andringitra. The next 3 days will see us hiking up one Valley (the Zomandao) and crossing 6,000 ft rocky pass to plunge in Sahanambo valley and the impressive cliffs of Tsaranoro. We will safely navigate between the vertical cliffs and spend the time exploring the valley, climbing to the top of rocky spires, spotting ringtail lemurs, exploring forests and enjoying the pools and waterfalls in this area.
Day 5: Zomandao (B,L,D)
We will continue our exploration of this area. Our trek will include mountainous terrains, steep trails and narrow tracks but there are no special difficulties, as long as you are ready to move on mixed terrain, poorly marked, steep and sometimes exposed ledges, crests (with rope protection when necessary) and the changing weather in Zomandao valley (which includes cool nights).
Day 6: Tsarasoa (B,L,D)
We will finish our 3 day trek at our camp Tsarasoa. Tsarasoa is more a camp than a hotel. It is the base for our local agents' reforestation which is a big passion that both he and Pioneer Expeditons share. There are large nurseries where 65,000 – 70-000 trees are planted per season.
Accommodation is in bungalows with a common bathroom (with the best view ever!) – the bungalows are new, clean and basic, and come complete with mosquito nets and spectacular views. Food is based on local products and they have a very good cook who uses fresh vegetables, local recipes, fruits and even makes home cooked bread.
Day 7: Tsarasoa (B,L,D)
We will spend today exploring this stunning area on foot and meeting all the locals – a visit to the local village is not to be missed. This is a great valley and a fantastic opportunity to see Madagascar in all its natural glory. Hopefully you will be able to see many kinds of orchids, three sorts of palms including one kind which is endemic to the Andringitra, chameleons, lizards, snakes, batrachians, birds including the famous peregrine falcon. Depending on the time of year we may also get the chance to plant some young saplings (this can be done between mid Oct and late March) .
Day 8: Benahy River (B,L,D)
We will set off relatively early today as we set off for the Benahy river just outside the Isalo National Park and the launch site of the next part of our adventure. We will stop en-route for lunch at Isalo (approx. 4 hours away). We have another couple of hours of travel (along tracks) before we finally leave our transport and head out on foot for the last 2 hr trek to our put in site and our camp for tonight.
Day 9-11: Benahy River (B,L,D)
Our next few days will be spent canoeing down the Benahy river and exploring the sapphire canyons. The Benahy, though adjacent to Isalo National Park, has not seen many visitors. It cuts its way through breathtaking canyons, lined with palm trees, aloe, baobabs, cacti, and a great variety of indigenous plants. It runs atop a section of land teeming with sapphires, and as a result, we will pass many local miners, sifting sand through metal sieves.
During our time on the Benahy, we hope to see lizards, birds, turtles and bats and possibly even lemurs as well as some exotic and unique vegetation.
Benahy navigation is smooth and easy, and we will raft in light canoes. A typical days rafting is a combination of paddle and drag areas (the later in the season we go, the more drag areas there are). It is a great way to explore the canyon even when dragging the canoes. Our typical daily routine will consist of setting off between 8 and 9 am and stopping to camp around 4-5 pm. We stop for lunch and en-route we have time to wander through side canyons, to possibly find a fresh water source or to observe occasional lemurs.
Day 12: Ifaty (B)
We lay up our canoes and transfer to the Mozambique Channel and the superb coral reef of Ifaty. This is a full day travelling as after the canoes have been packed up onto Zebu carts we will walk (approx. 1 hr) to a local mining village. Here we will pick up a 4×4 which will transfer us to a mining town on the main road (approx. 1 – 1/2hrs). At which point we will meet our transport which will take us to Ifaty.
Ifaty is less than 20 kms from Tuléar, and here you will discover the beauty of beaches not tainted by mass tourism. Between May and October, the humpback whales can sometimes be seen with their whale-calves. Snorkeling and diving are highly recommended (the coral reef is totally captivating and can be reached by pirogue ) & visibility is great. Local fishermen will also be happy to offer you a trip in their traditional fishing boats (pirogues). Or if you prefer you can simply relax on the beach, or by the hotels' infinity pool.
Day 13: Day at Leisure (B)
Ifaty. Today can be spent at leisure relaxing on the beach or if you prefer you can visit the Spiny Forest (there are 3 pockets), a remarkable habitat adapted to the heat and drought of the area giving it the resultant thorny &/or bloated drought resistant trees and plants. Here you will be able to see some very large iconic Baobab trees, an abundance of birds (a true paradise for ornithologists) as well as possibly some locally endemic species such as the long-tailed ground roller and sub-desert mesite.
This unique habitat is severely threatened by deforestation and by visiting these sites, you will not only enjoy some of the little remaining spiny forest in Madagascar, but also actively contribute to its conservation.
Day 14: Transfer to Tana (B)
We will catch the Air Madagascar flight from Tulear to Tana. Depending on your time of arrival in Tana you can visit the handicraft market before heading to your hotel   Overnight hotel
Day 14: Flight home (B)
Transfer to the airport in time for your flight home.
Save Save Save Save
Average rating:
2 reviews
Sep 10, 2013
Madagascar Tailormade
'Overall, the holiday was wonderful and exceeded our expectations. We expected the flora and fauna to be extraordinary but we didn't expect such a truly beautiful country, especially the central hill country. The people were friendlier and less hassley than we thought and they smiled and laughed a lot. Accommodation was generally better than hoped for and food much better (the lowlier the surroundings the better the food). Roads were even worse than we had hoped for though. We were so pleased at how all the planning we did between us really happened. We were often up at 5 or 6 am in order to see and do everything but it was so worthwhile and all the activities: driving, trekking, eating fois gras, kayaking in the rain, following lemurs through rainforests, swimming in natural pools, admiring paradise flycatchers to recall just a few of the adventures, were all exciting and amazing. Thank you for all your help in the preparations for this unforgettable expedition.
Sep 9, 2013
Tailormade South
We had a truly wonderful time and loved Madagascar. The wildlife and scenery were breathtaking. Everything on the itinerary went smoothly and we were well looked after. we're all sad that the trip is over